Confluent + Databricks: Should these enterprise unicorns merge before IPO?
Learn why we think Confluent and Databricks should consider merging!
As a mathematically minded team, we're always asking the 'what if' type of questions! So, after we produced our analysis on the hypothetical Slack + Dropbox merger entitled 'The future of Slack: Could a Merger with Dropbox Create a $60Bn Company?' – we couldn't resist the temptation of asking what if the two companies merged before going public? Our analysis suggests that if the two merged before going public, their IPO would have been far more successful. Hence, a natural question is what if other private unicorns with synergy merged before going public?
In a previous post, you may recall that we formalize/proxy the computation of an 'IPO success' in terms of a Kolmogorov IPO Score i.e. we theorize that the Kolmogorov IPO Score corresponds to the probability of a successful IPO .
Confluent & Databricks
For readers not familiar with either company - Confluent is the company behind the popular open-source data streaming technology called 'Apache Kafka' and Databricks is the company behind the popular open-source big data processing technology called 'Apache Spark'. In a nutshell, Confluent's core technology enables companies to collect large amounts of data in real-time - e.g. think live user clicks from eCommerce sites or social media posts. Whereas, Databricks enables companies to process large amounts of data faster, plus it integrates with Kafka and other open-source big data technologies such as Apache Cassandra. Hence, you can start to see the potential synergy between the two companies! The following architecture from the WalmartLabs blog highlights how a large enterprise such as Walmart used Kafka and Spark to build a robust analytics platform.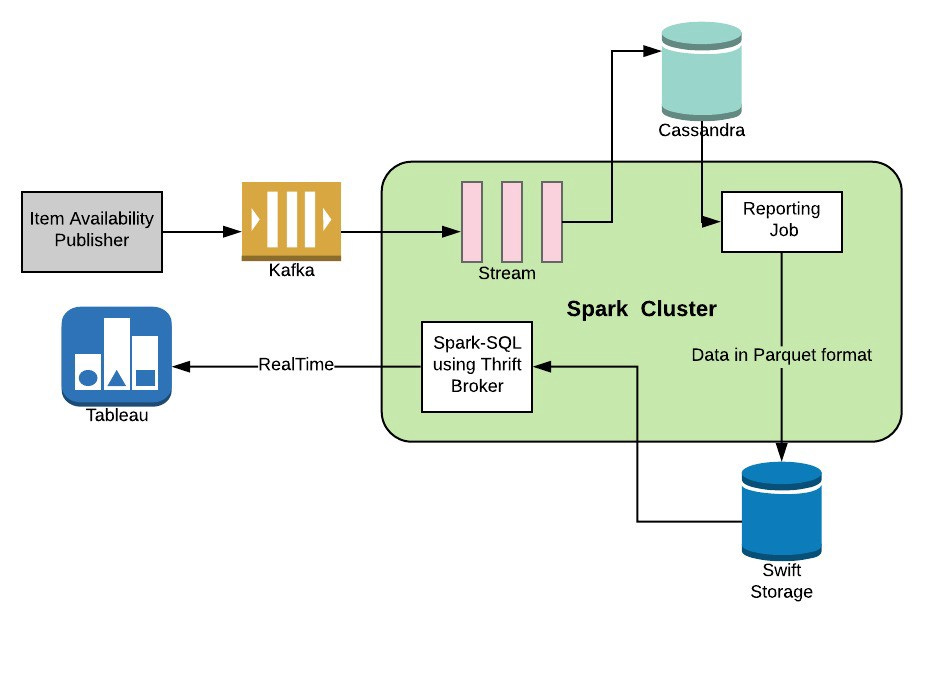 Architecture example sourced from WalmartLabs.
Indeed a lot of well-known enterprises and startups use Kafka and Spark as a part of their big data architectures, notably the following companies:
Kafka users sourced from StackShare.
Spark users sourced from Stackshare.
The Kolmogorov IPO Scores
Before we share the Kolmogorov IPO Scores for the two companies individually and for the hypothetical merged entity, that for lack of imagination of a better name we've abbreviated as 'ConfBricks', we would like to highlight the following assumptions:
We assumed that both companies are planning to list on Nasdaq and so we assigned the hypothetical merged company ConfBricks to Nasdaq – hence we factored certain Nasdaq specific signals.

50/50 investor profile - we set the composition of the K >1 investors to be a 50/50 split between growth investors & value investors i.e. 50% are of a growth investor profile type and 50% are of a value investor profile.
According to our prediction, as of January 14, the merged company ConfBricks has a Kolmogorov IPO Score of 52% i.e. ConfBricks has 52% chances of IPO success. Whereas, Confluent on its own has a 38% chance (up 5% from the previous update) and Databricks 35% chance (up 3% from the previous update).
Of course, it is possible this prediction will change to a more positive outlook for Confluent and Databricks individually as we capture more data over the coming days and weeks. It is also possible that under one particular type of investor profile, the two companies may individually score higher or lower - subscribers to our Pre-IPO Analyzer (Basic Plus) can submit questions to our team about this analysis.
Finally, please recall that we don't consider a first-day stock surge as 'success' - instead, the ability of the companies to maintain strong stock performances until their lockup periods expire is what we consider as being a successful IPO from the perspective of existing shareholders like VCs. This is very important as we've seen companies make stellar debuts, with their stocks skyrocketing on the first day of trading, only to see a couple of weeks later the stocks sinking to a record low just before the lockup period expires!
Any other unicorns?
Yes we are looking at more unicorns (mostly enterprise software-oriented ventures) including; a GitLab + HashiCorp potential merger that we'll be covering in near future! In meantime, we recommend checking our October 2019 post about Confluent entitled 'Will Google Buy Confluent?'.
Do you also know that you could commission bespoke Pre-IPO analysis from our team on pretty much any VC backed tech company in Europe and the US?
---
Kähler VC.X Catch Up
If lately, you've missed our newsletters, the following are the most recently read by investors across our network.
1. 'Our Prediction came true - Plaid has exited!'
2. 'The Kolmogorov IPO Score for 1Life Healthcare, Inc (aka One Medical)'
3. 'Friday Digest: Is the endgame near for SoftBank & Wework?'
4. 'Kolmogorov IPO Score: A proxy investor sentiment measurement score to predict unicorn IPO success?'
5. 'Partial ROI Analysis: Specialist Partners vs Generalist Partners'
6. 'VC 2020 Outlook: IPOs vs Big Tech vs PEs'
---
Disclosure: ZAIKU GROUP LTD (Parent company of Kähler AI) is a co-developer of Nanosai.com which is working on products in the same category as Confluent and Databricks.
Disclaimer: Any opinions, newsletters, research, analyses, prices, projections or other information offered by Kähler VC.X is provided as general market commentary, and does not constitute investment advice. Kähler AI will not accept liability for any loss or damage, including without limitation to, any loss of profit, which may arise directly or indirectly from use of or reliance on such information. ZAIKU GROUP LTD (Parent company of Kähler AI).